Product Overview
Discover our portfolio of lay-flat hoses.
World-Class Lay-Flat Hoses
Choosing a lay-flat hose from Mandals means choosing a hose that has been made without any compromises on quality. We strive to create the world's best lay-flat hoses and have been doing so since 1775. We take great pride in every step of our production process, ensuring that we make the best possible product for your needs. 
Our high-quality constructions and tailored materials result in some of the most durable hoses on the market. With a wide offering of hoses, we are sure that you will find the perfect hose for your application.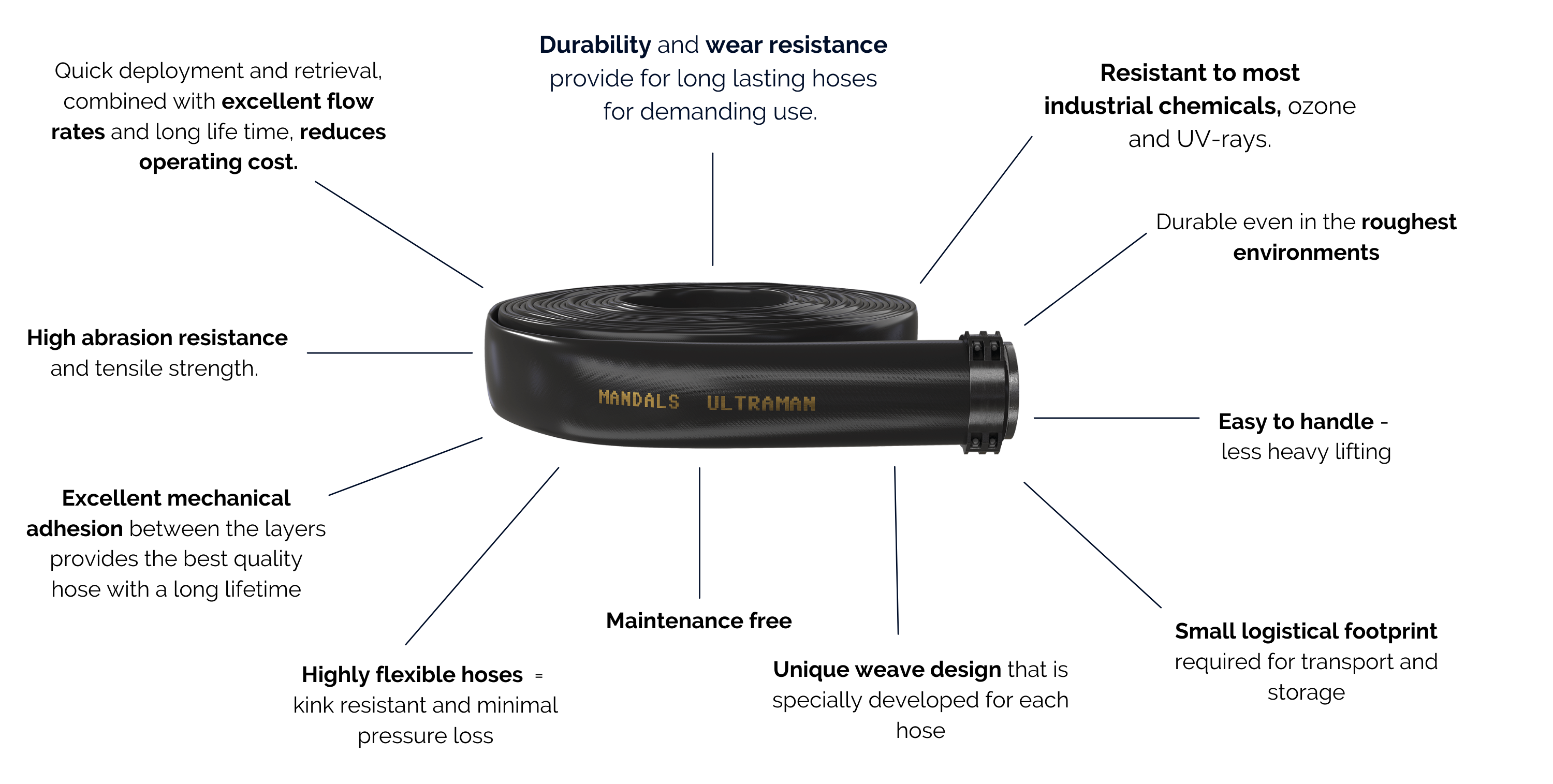 There are multiple advantages to choosing a Mandals lay-flat hose over the competition. Our hoses are made from the highest quality materials available and are put through rigorous quality control tests to ensure that they meet our high standards. Second, our hoses are designed to be as user-friendly and low-maintenance. Professionals worldwide have chosen our hoses for decades because of their resistance to abrasion, chemicals, and reliable burst pressure. They are also lightweight and compact, making them easy to transport and deploy.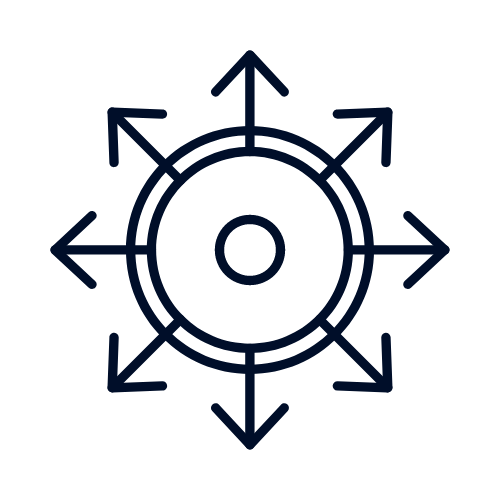 High Diameter and Dimension Stability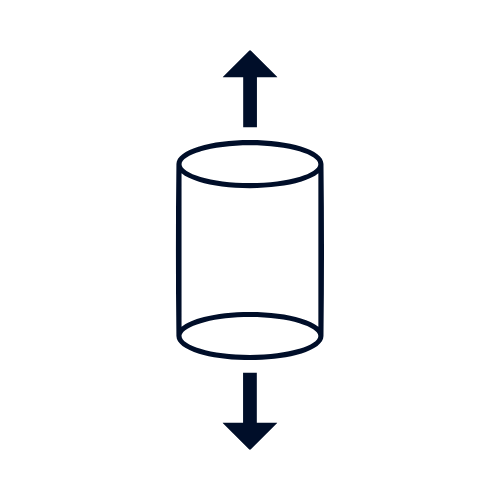 Great Adhesion and Tensile Strength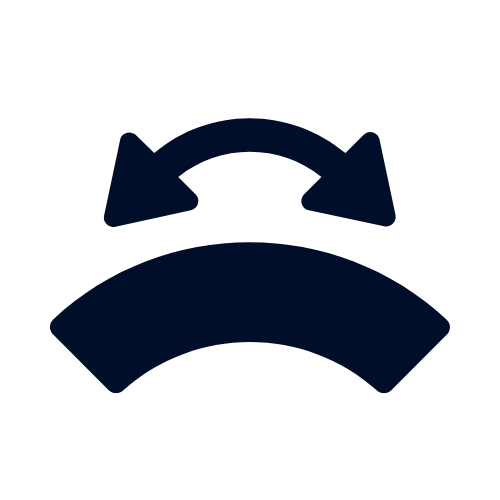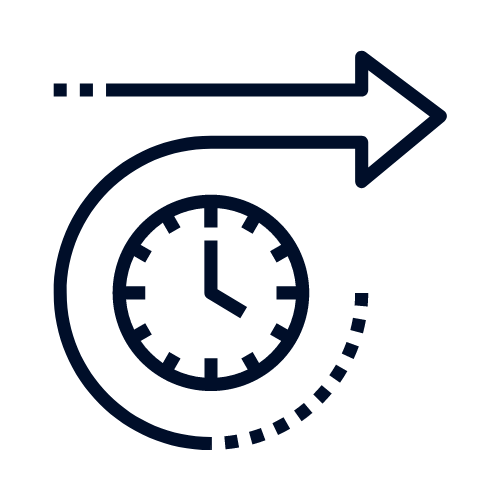 Long Lifetime and Low Maintenance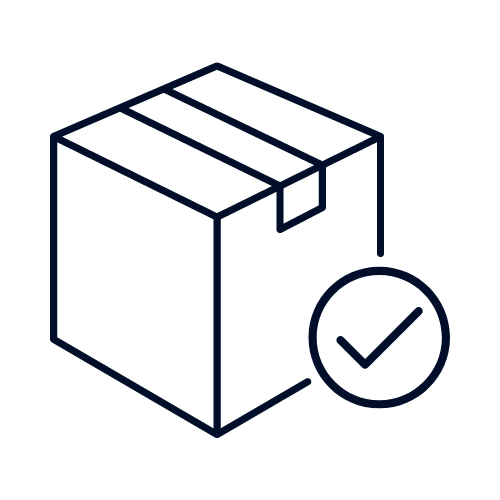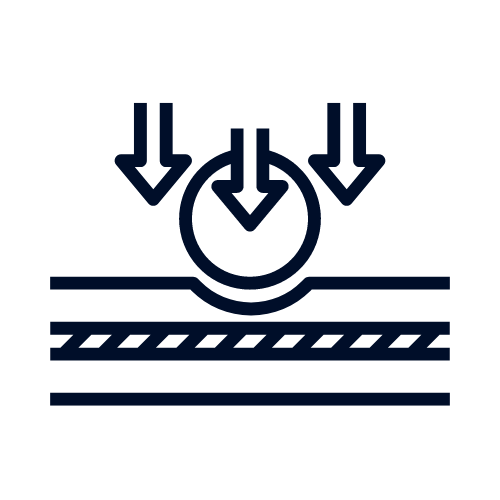 High Abrasion and Kink Resistance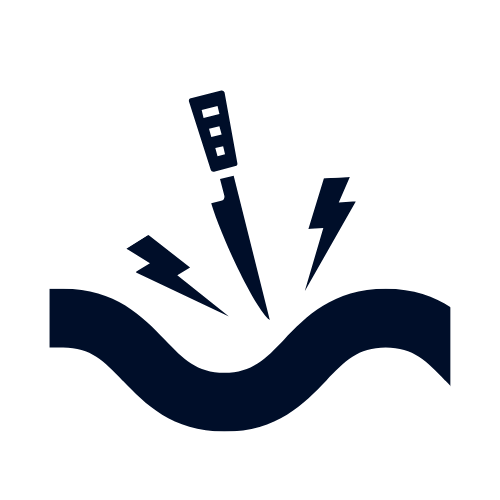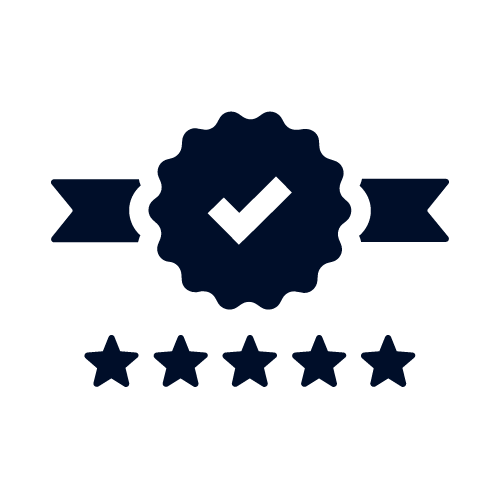 Product Application Overview
Explore Our Product Portfolio
We offer a wide selection of lay-flat hoses that most likely meet the specific needs of your application. We have hoses designed for a variety of industries, with options in diameter, length, color, and pressure. Contact us if you can't find what you are looking for – we develop hoses together with our customers all the time.
Mandals Antistatica is an antistatic electrically-conductive flexible hose with excellent abrasion resistance. It is resistant to UV, ozone, oil, fuels and commonly used chemicals. Antistatica exceeds the conductivity spec. set by MIL-PRF-370 standard, stating an electric resistance of maximum 4,9 Ohm/m. The "dual" strapped hose exhibits less than 0,02 Ohm/m at operating pressure.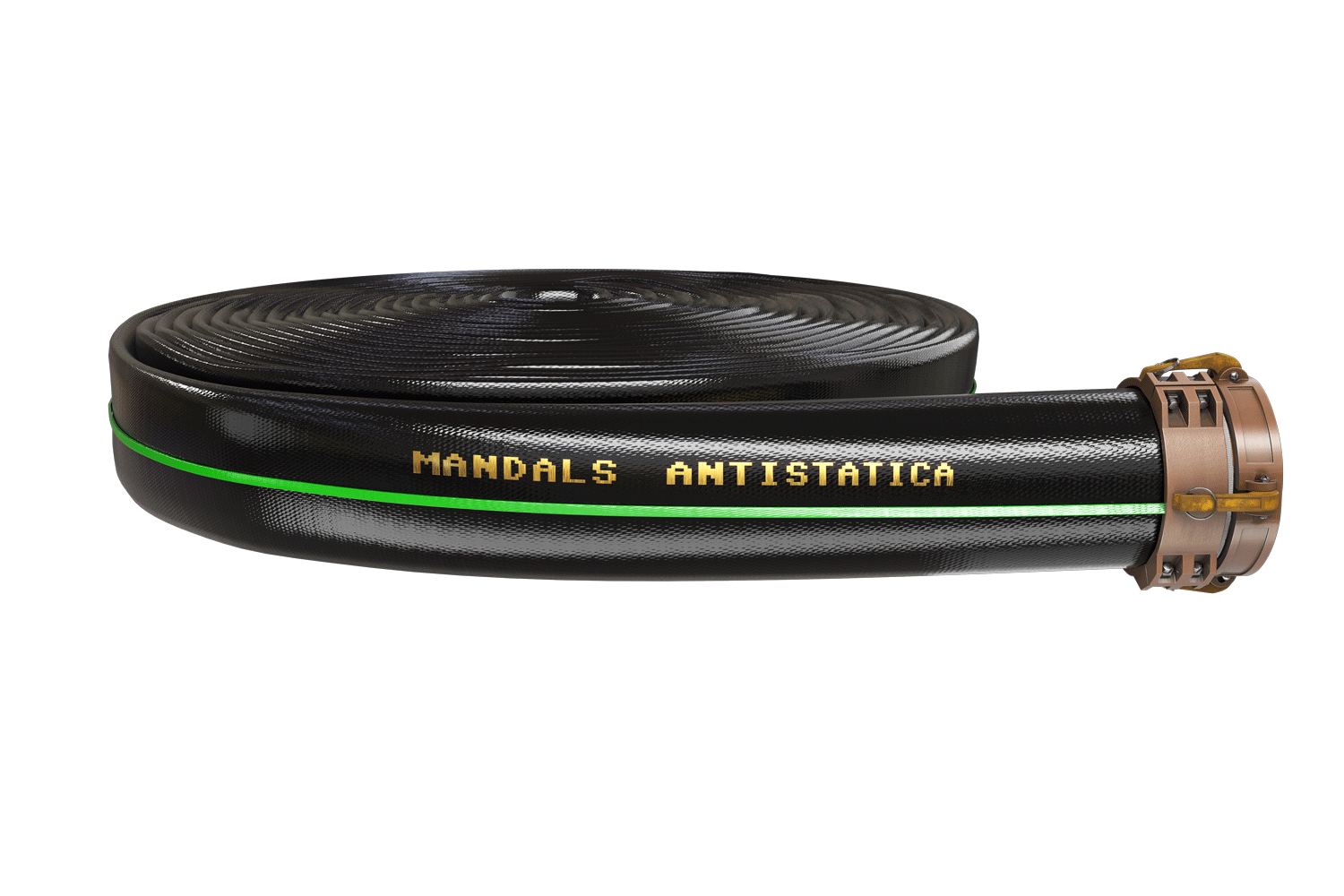 Aquaman is a lightweight lay-flat hose designed to transfer large volumes of liquids with high working pressures. In addition to its premium abrasion resistance, the hose is designed, tested, and certified for potable water transfer.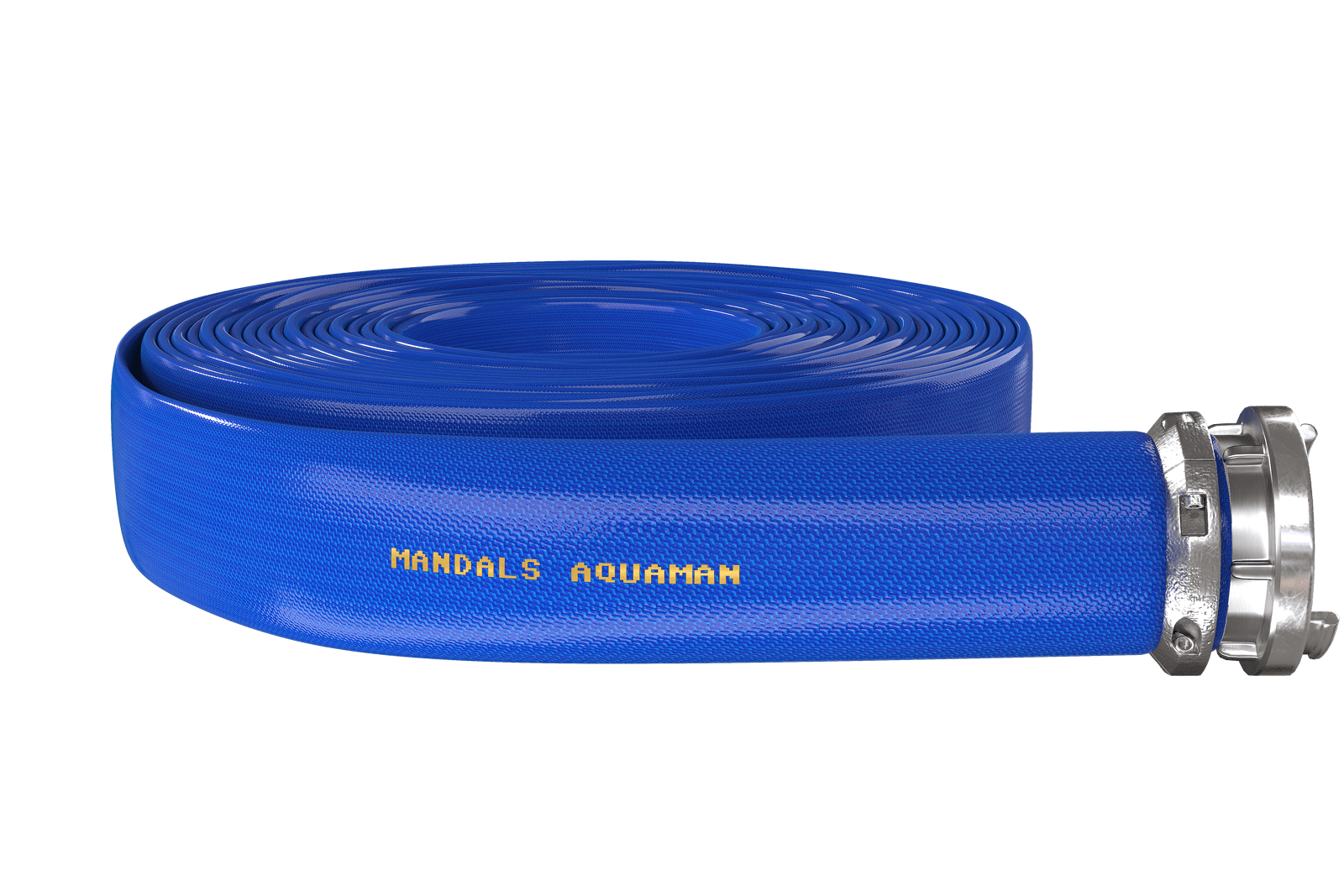 Aquaman L & M is designed for the safe, trenchless, and effective rehabilitation of drinking water mains. The liner is drinking water approved and is designed to have a lifespan of more than 50 years, and is resistant to microbiological attacks. It is available in low and medium-pressure versions.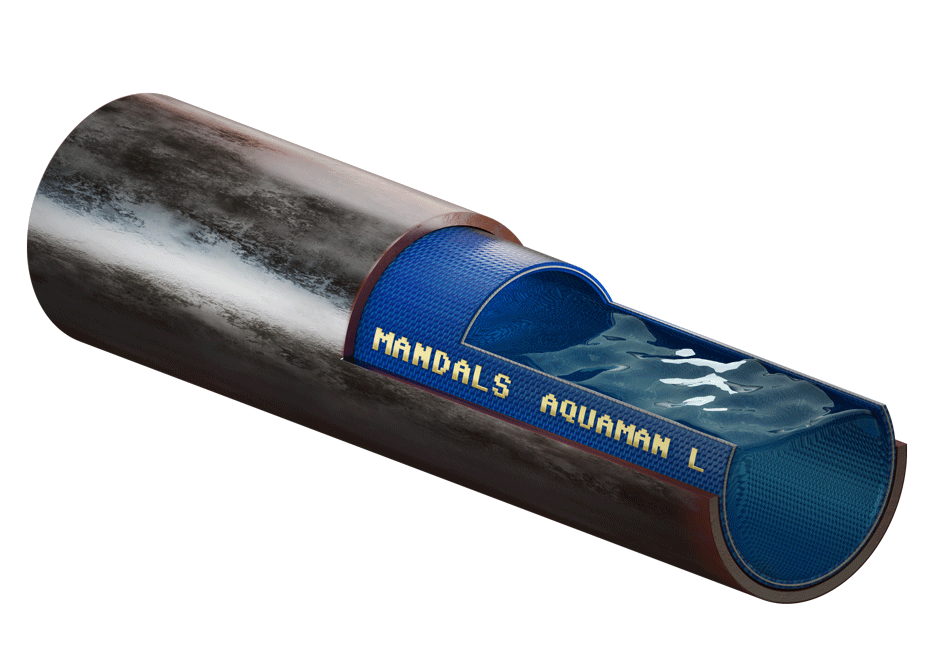 Tubeman is designed for the safe, trenchless, and effective rehabilitation of drain water pipes, sewage pipes, as well as gas pipes. Mandals Tubeman is ensuring a "stand-alone" pipe rehabilitation solution, giving a continual and safe fluid supply even if the host pipe should fragment or break. It is designed to have a lifespan of more than 50 years. The predicted service lifetime mainly depends on the fluid's chemical composition and operating temperature.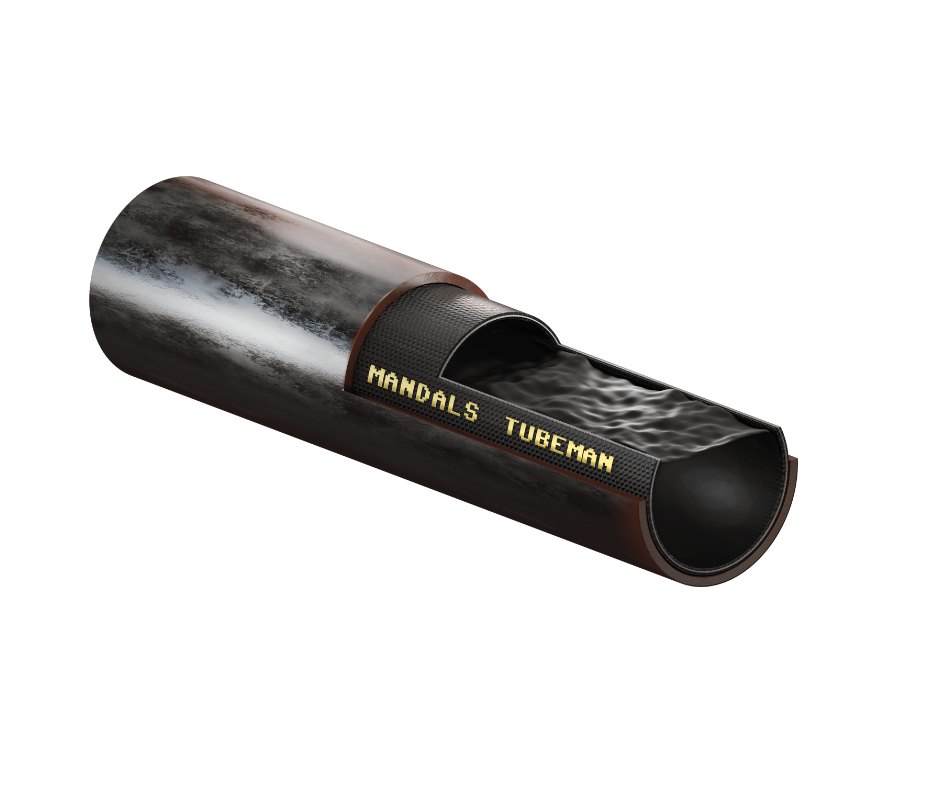 Mandals Dragman series consists of flexible, high-quality lay-flat hoses uniquely designed for the agriculture industry. They are particularly great to use with umbilical drag systems to distribute slurry and manure in a time- and cost-effective way.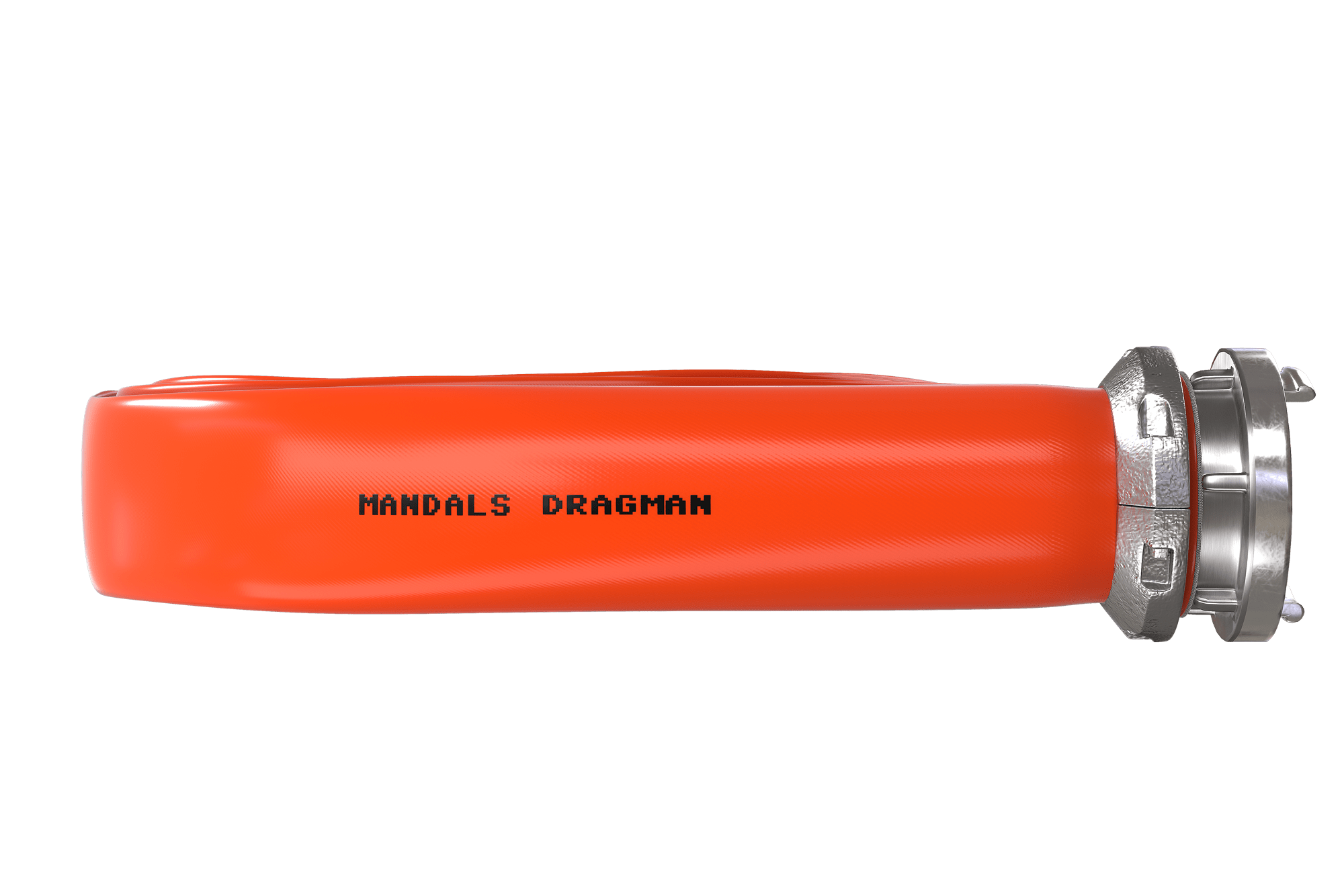 Flexitex is made to be the ideal rubber fluid transfer hose, made from a unique blend of nitrile rubber and PVC, with an added barrier to prevent damage from UV radiation. It's designed with a reinforced jacked of filament polyester yarn that the rubber blend has been extruded though – this gives a very strong adhesion between the cover and lining.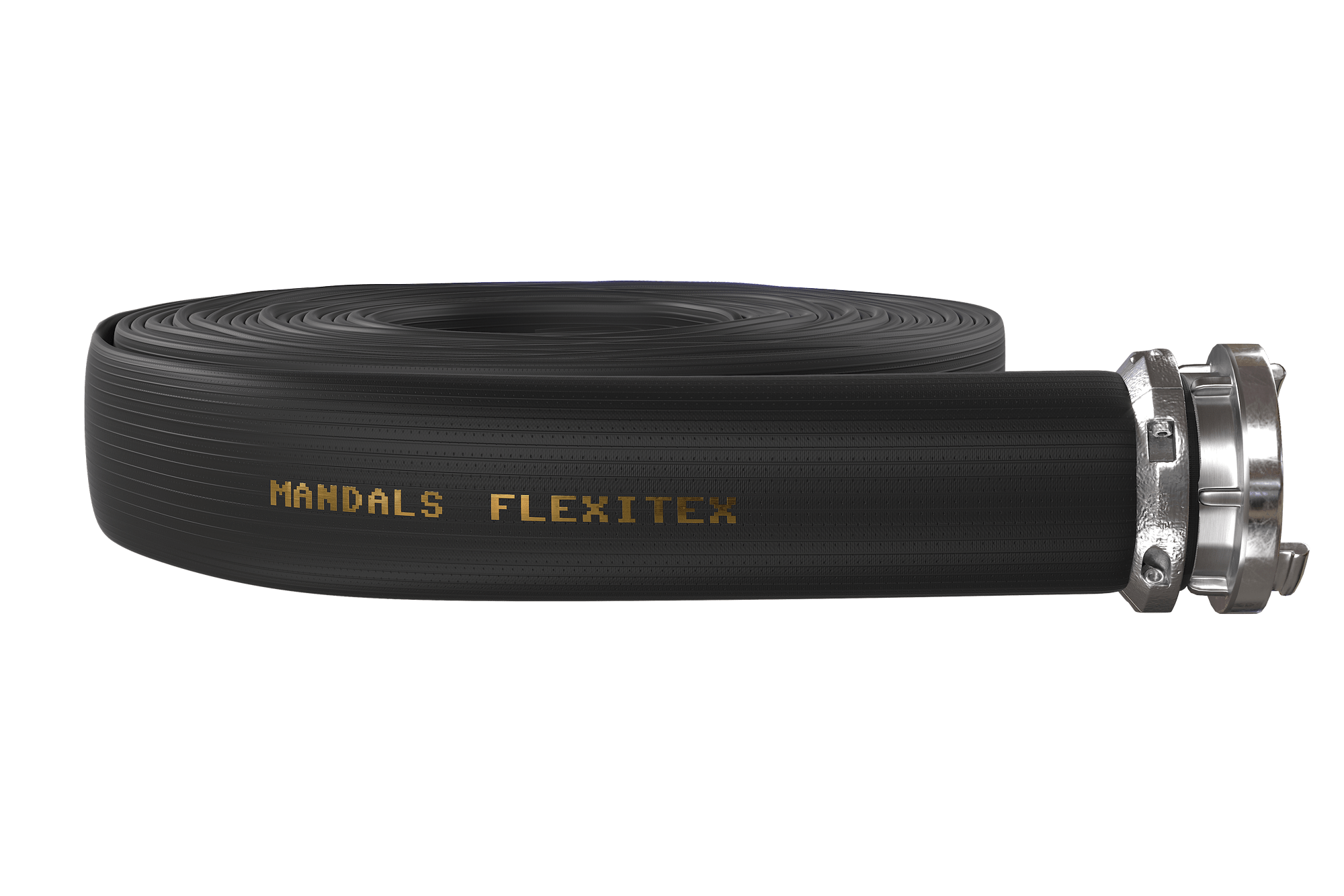 Guardman is our number one firehose and has set the standard globally for firehoses since its origin in the 1960s.  Guardman was developed to meet the need for a fire hose that could withstand damages caused by abrasion, wear and tear, while also delivering a flexible and high-quality solution in demanding situations.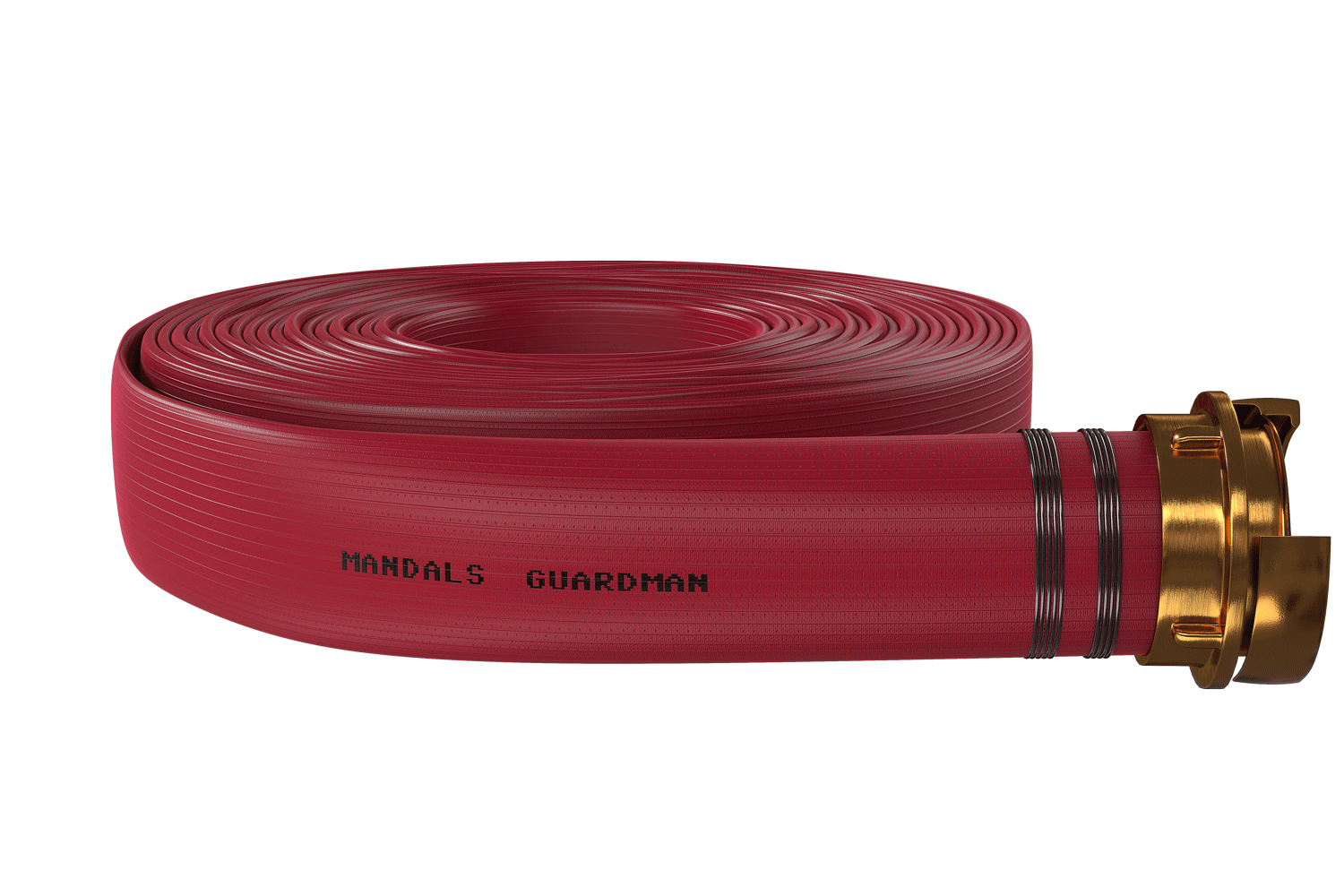 Designed for easy movement and quick deployment, Mandals Getex is the ideal hose for fire cabinets. Because of its uncovered, fully synthetic textile, it is lightweight and easy to transport. Furthermore, the hose resists abrasion and chemicals, making it ideal for a wide range of applications. Getex is available by request.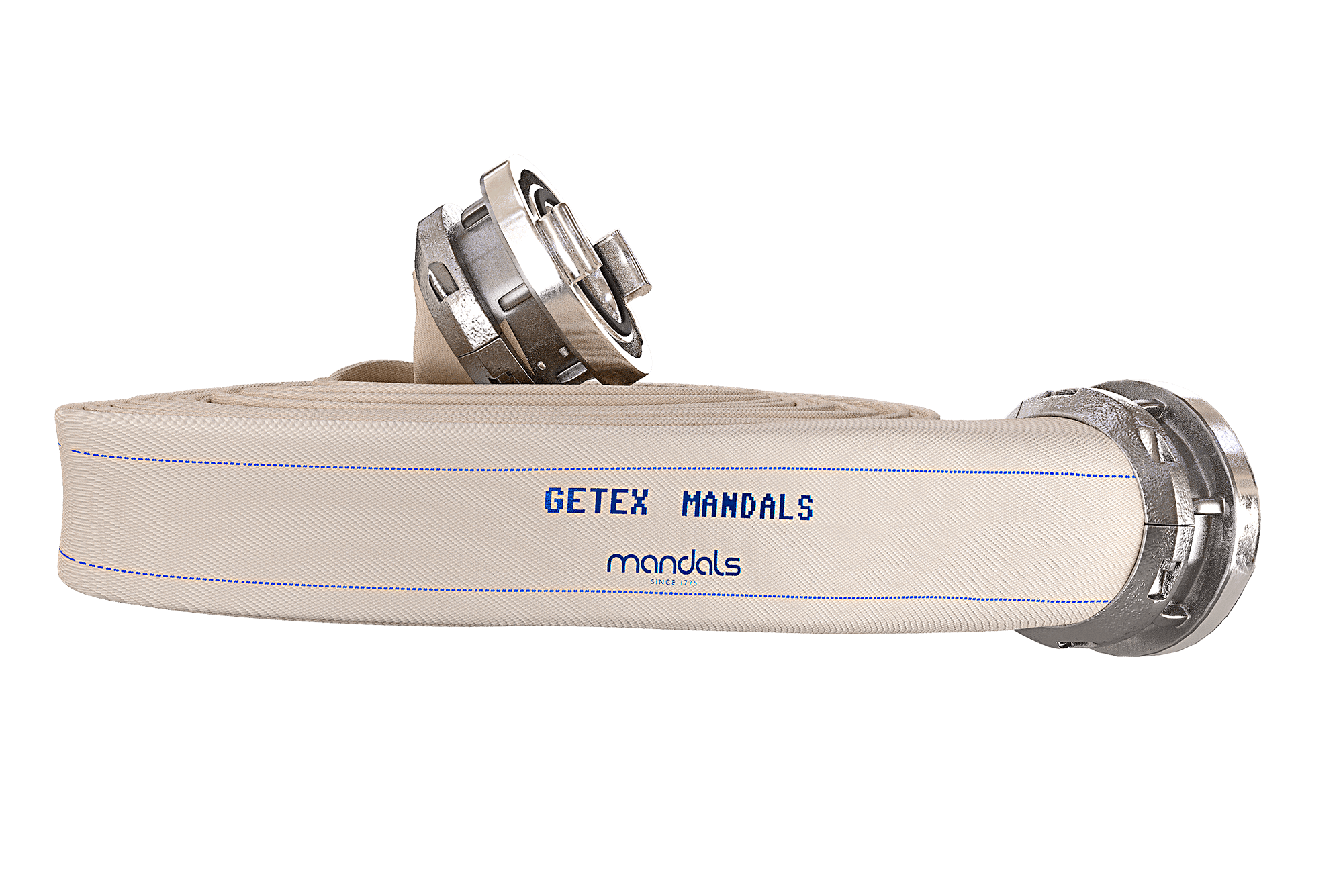 Mandals Mantex is a lightweight, yet rugged and hard-wearing hose. It is made from a blend of nitrile rubber and PVC, with an added UV barrier to prevent damage from UV radiation.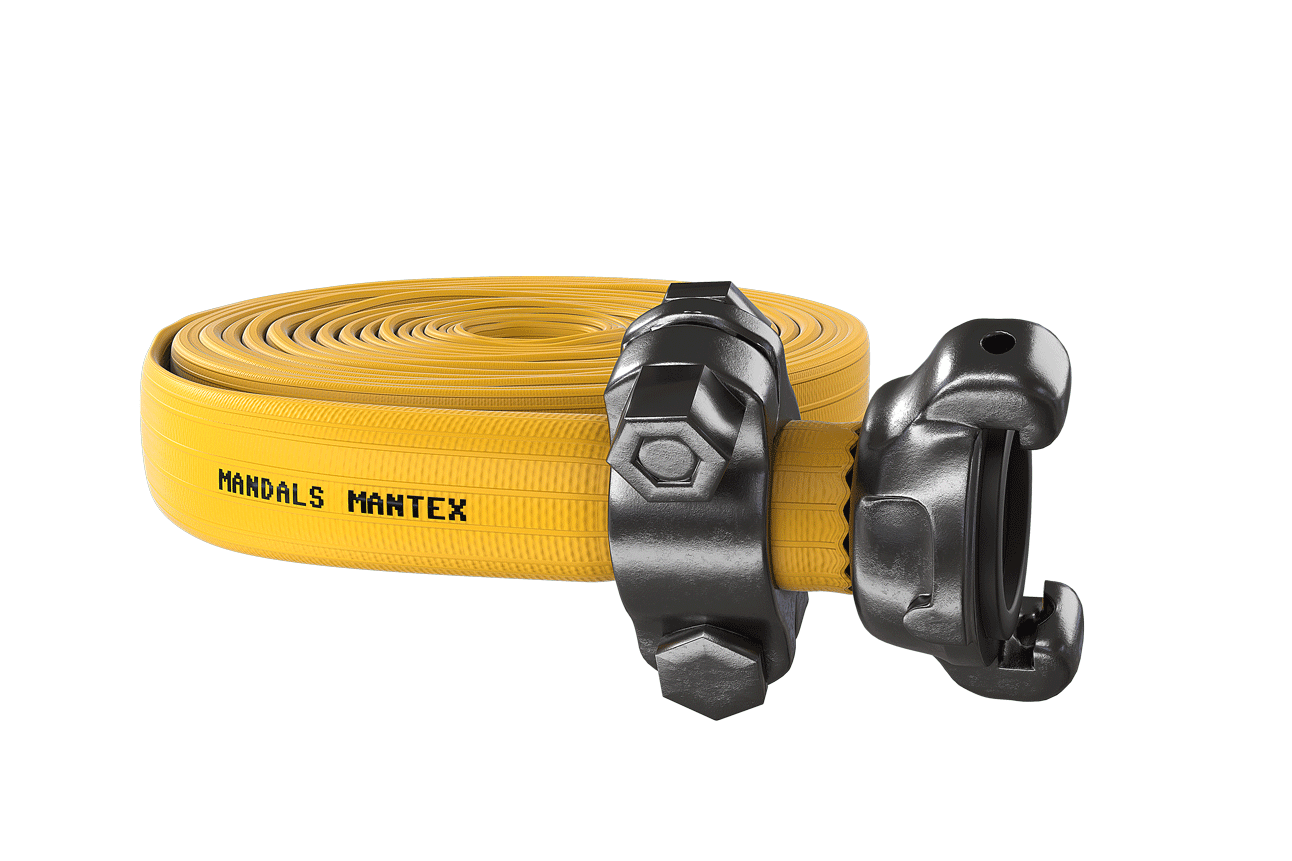 Mantex HP is a light, yet rugged and hard-wearing hose. Its low weight and high-pressure rating make the hose popular and easy to use. Mantex HP does not stretch when pulled and has a very high-pressure rating versus wall thickness with excellent abrasion resistance.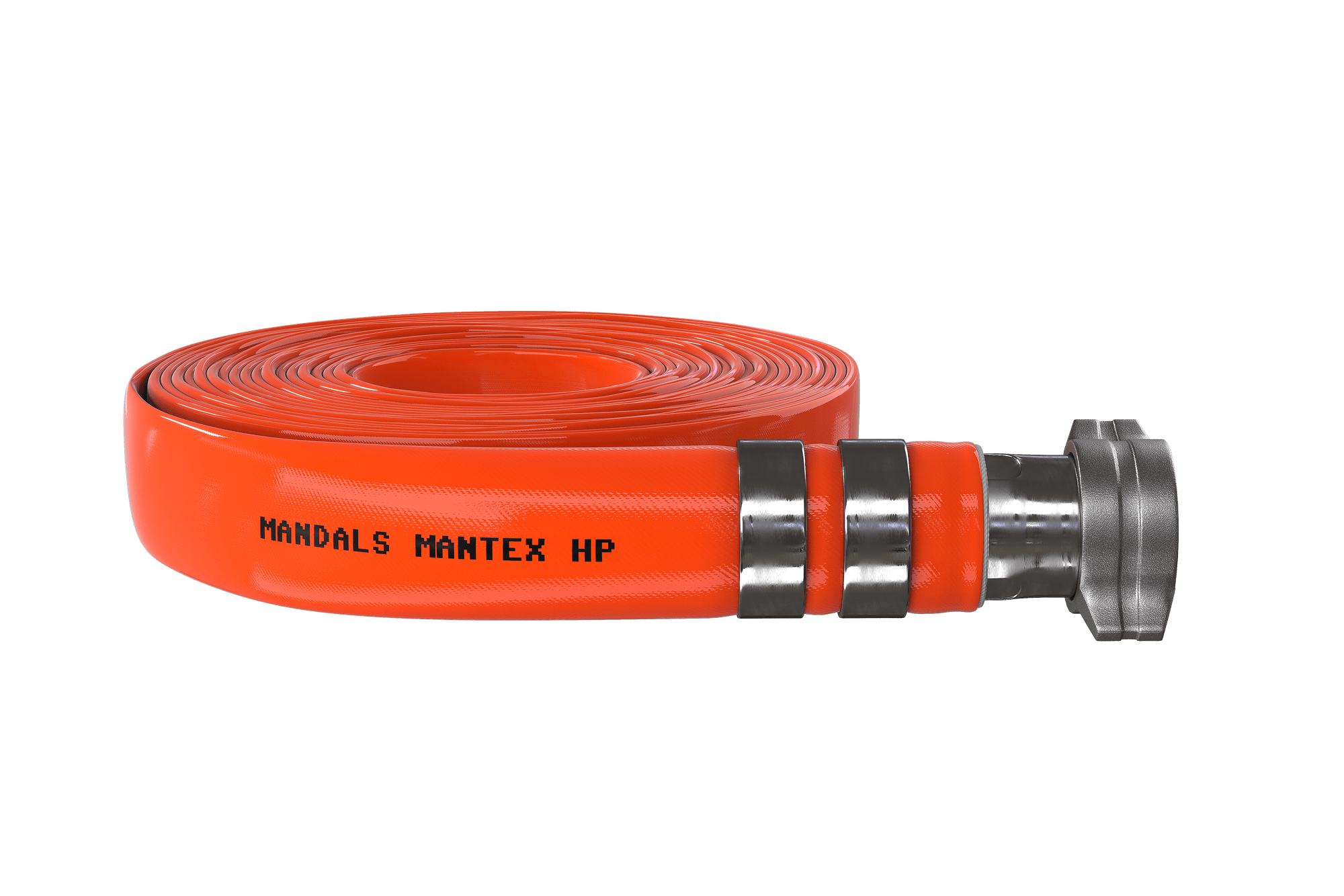 Mertex is a high-quality textile hose, with an extruded inner lining of thermoplastic polyurethane (TPU). This gives the hose excellent water flow compared to rubber-lined textile hoses, while also maintaining excellent adhesion between the lining and the weave.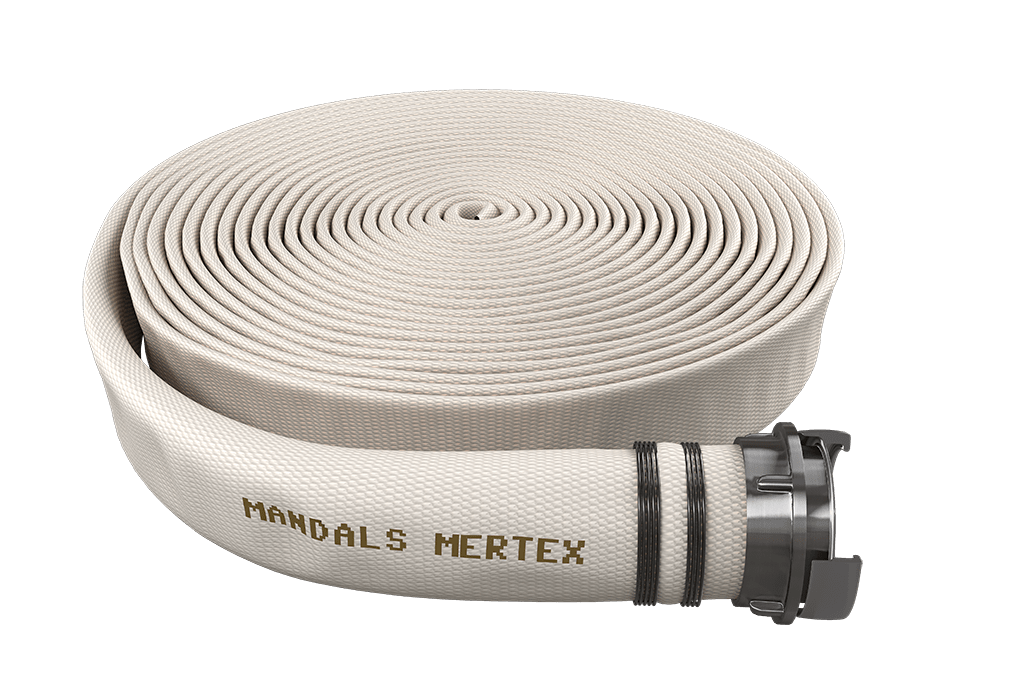 Mortar is a boom end hose that is a lightweight and flexible hose that is perfect for the construction industry. It is operator friendly, making it easy to pour concrete, and has a long lifespan, meaning that it will last long after you stop using it.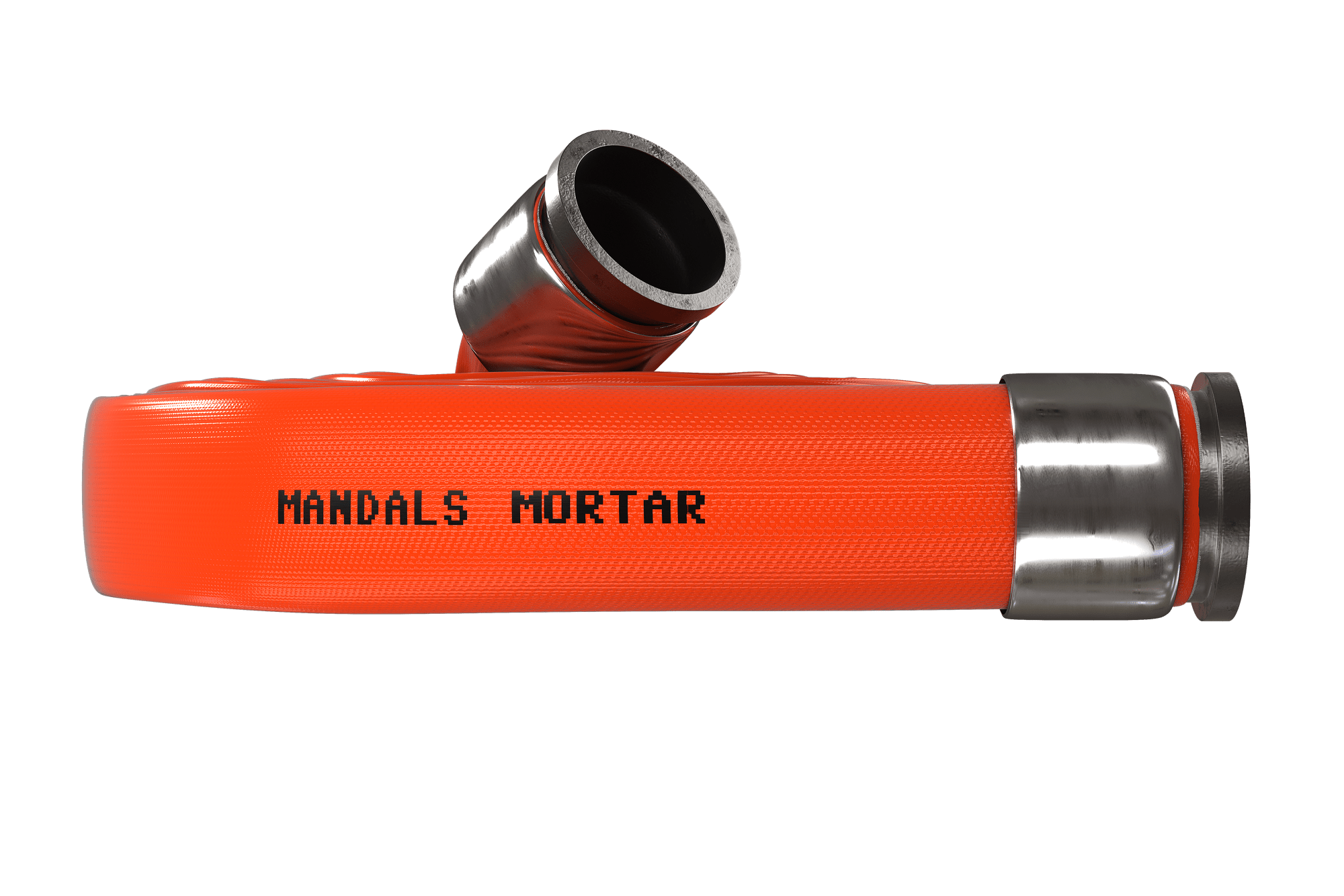 Superman High Volume Transfer (HVT) is our market-leading all-purpose hose for fluid transfer. Not only is Superman HVT designed for higher working pressures when transporting fluids, the hose is also heavily reinforced with exceptional resistance to abrasion and cutting. This is a hose you can rely on for a lifetime.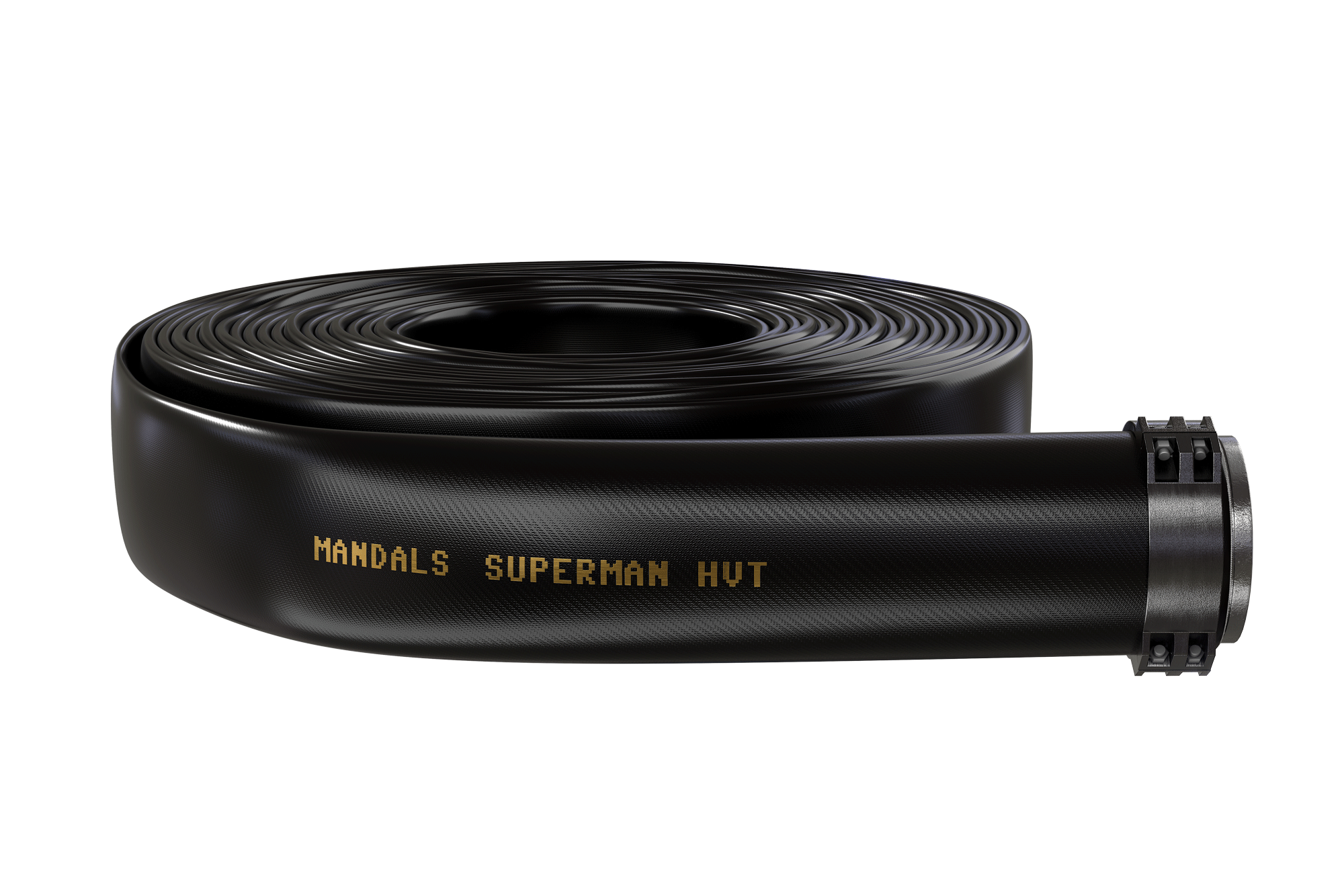 Mandals Ultraman High Volume Transfer (HVT) is a strong hose, with a lighter design compared to Superman. The hose is ideal for use within several industries because of its high operational pressure and compact, lightweight storage. Easy handling and a long lifetime make it a cost-efficient alternative. The hose is produced with the same high-quality TPU familiar as our other products.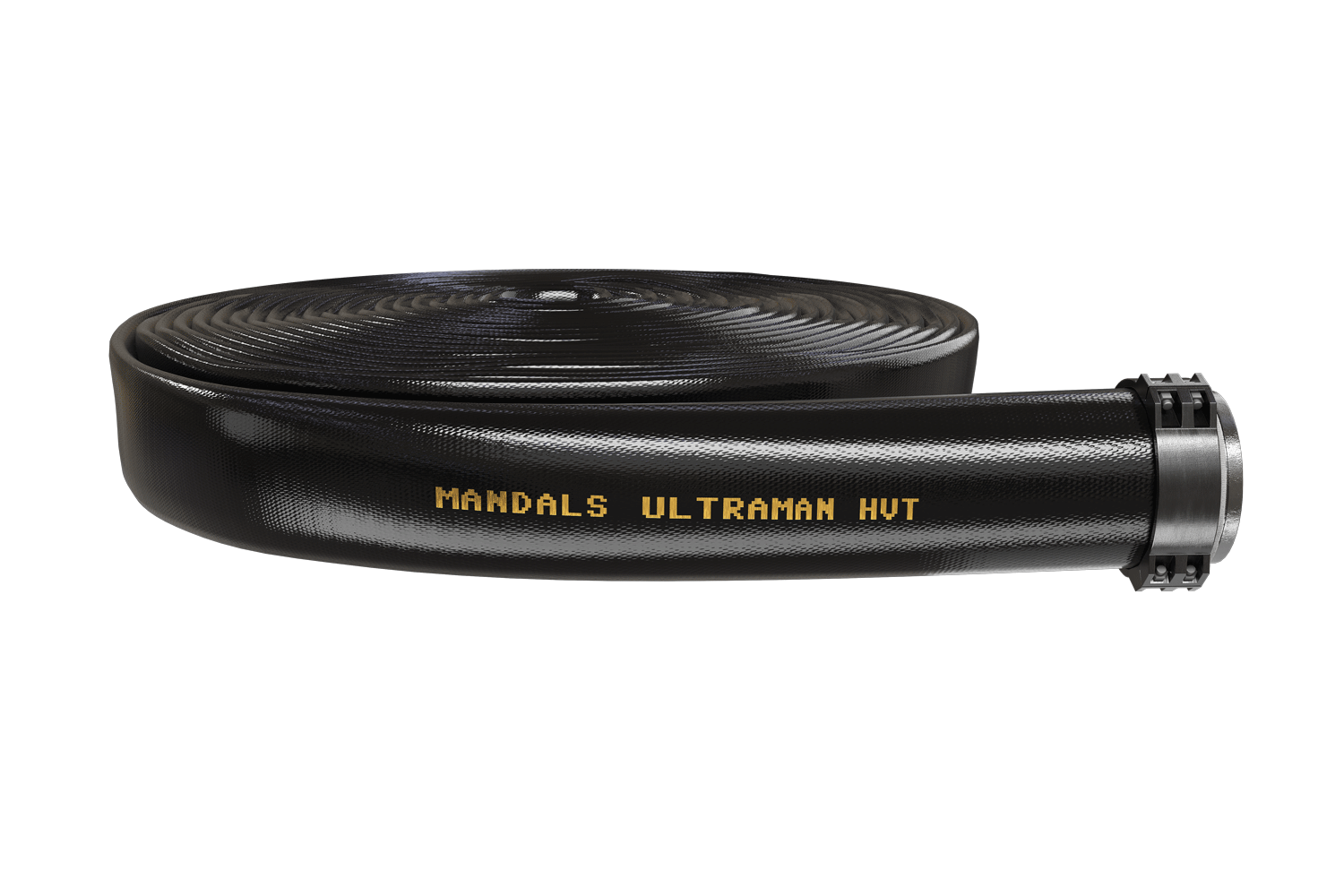 Ultraman is a multi-purpose transfer hose used in a variety of industries. Ultraman is available in a range of dimensions and features high operational pressure and compact, lightweight storage.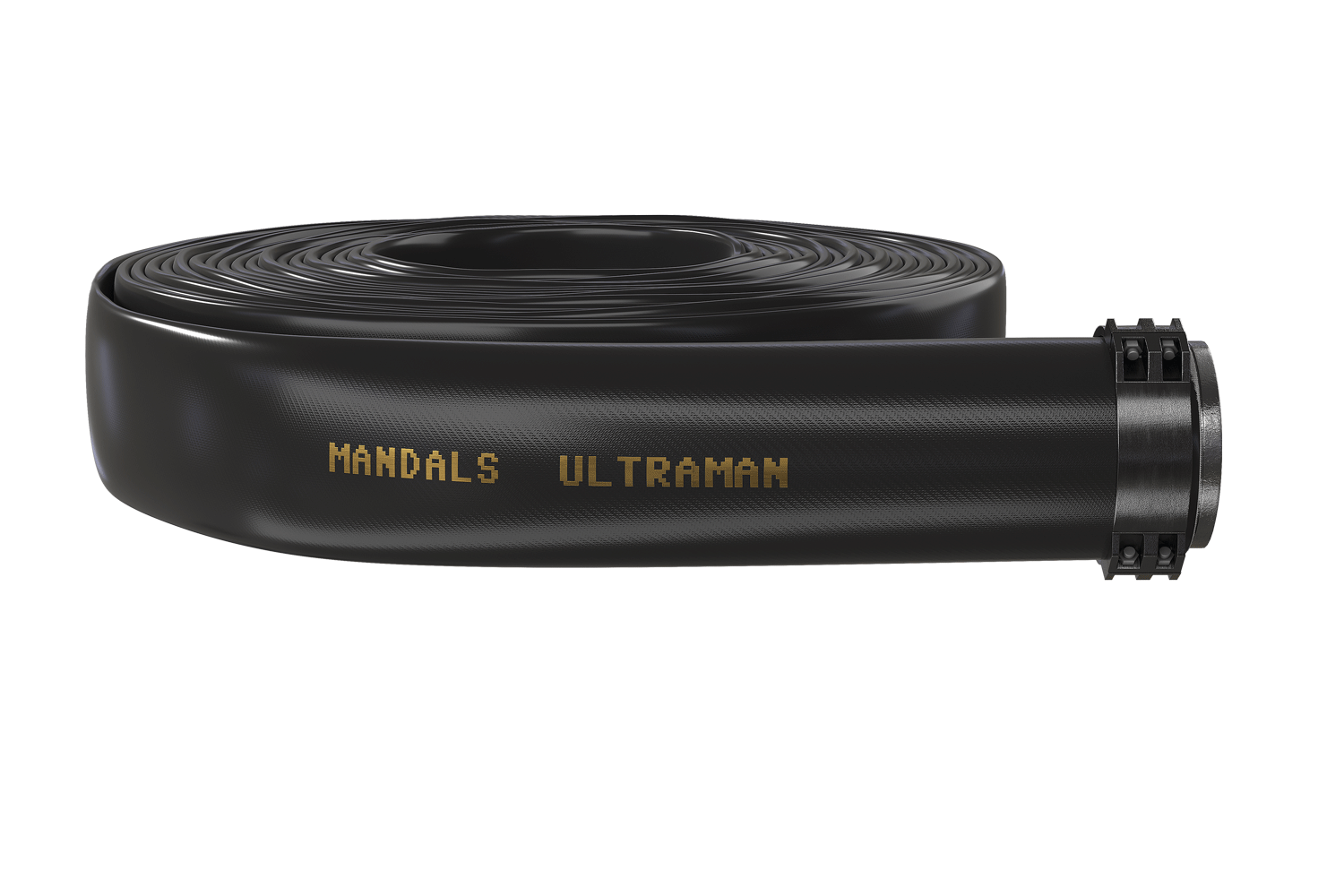 Designed for use in water wells with electric submersible pumps, Wellman 120 is a permanent alternative to traditional materials such as steel, fiberglass, PVC, and polyethylene.
With Wellman 300, you get a lay-flat hose with excellent hydraulic performance that is designed for rapid installation and removal of submersible pumps.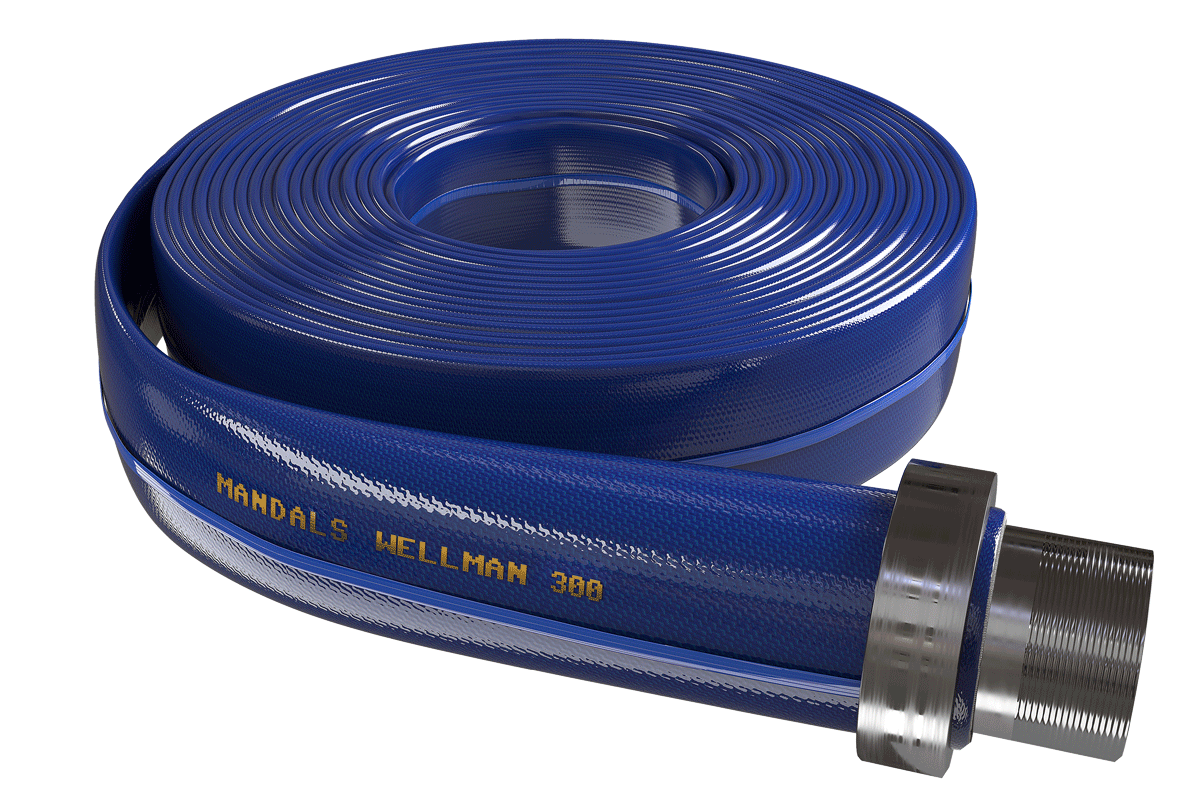 Our dedicated Sales Managers are ready to cater to your needs and find proper solutions for your business. Regardless of where you are in the world – we got you covered. Get in touch today.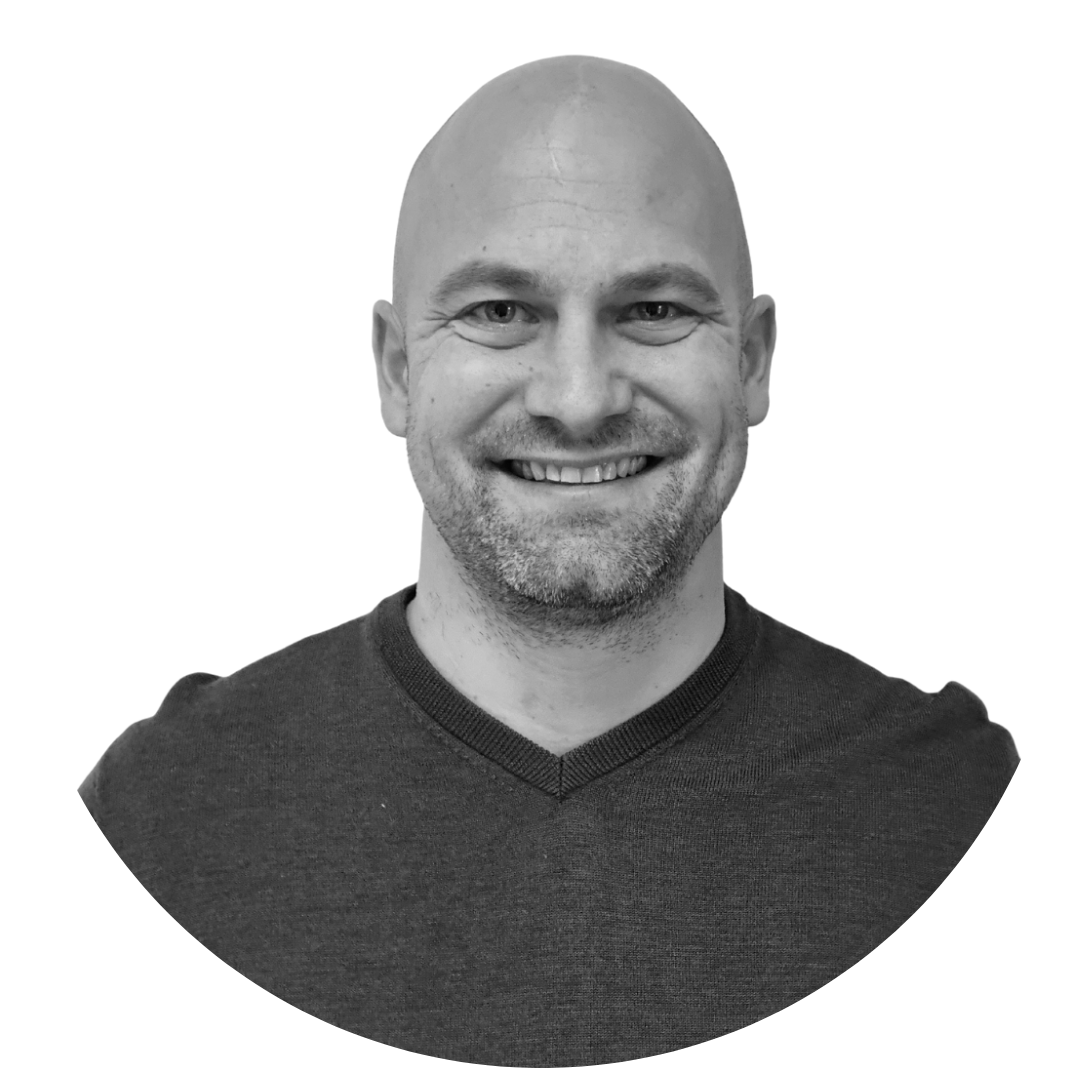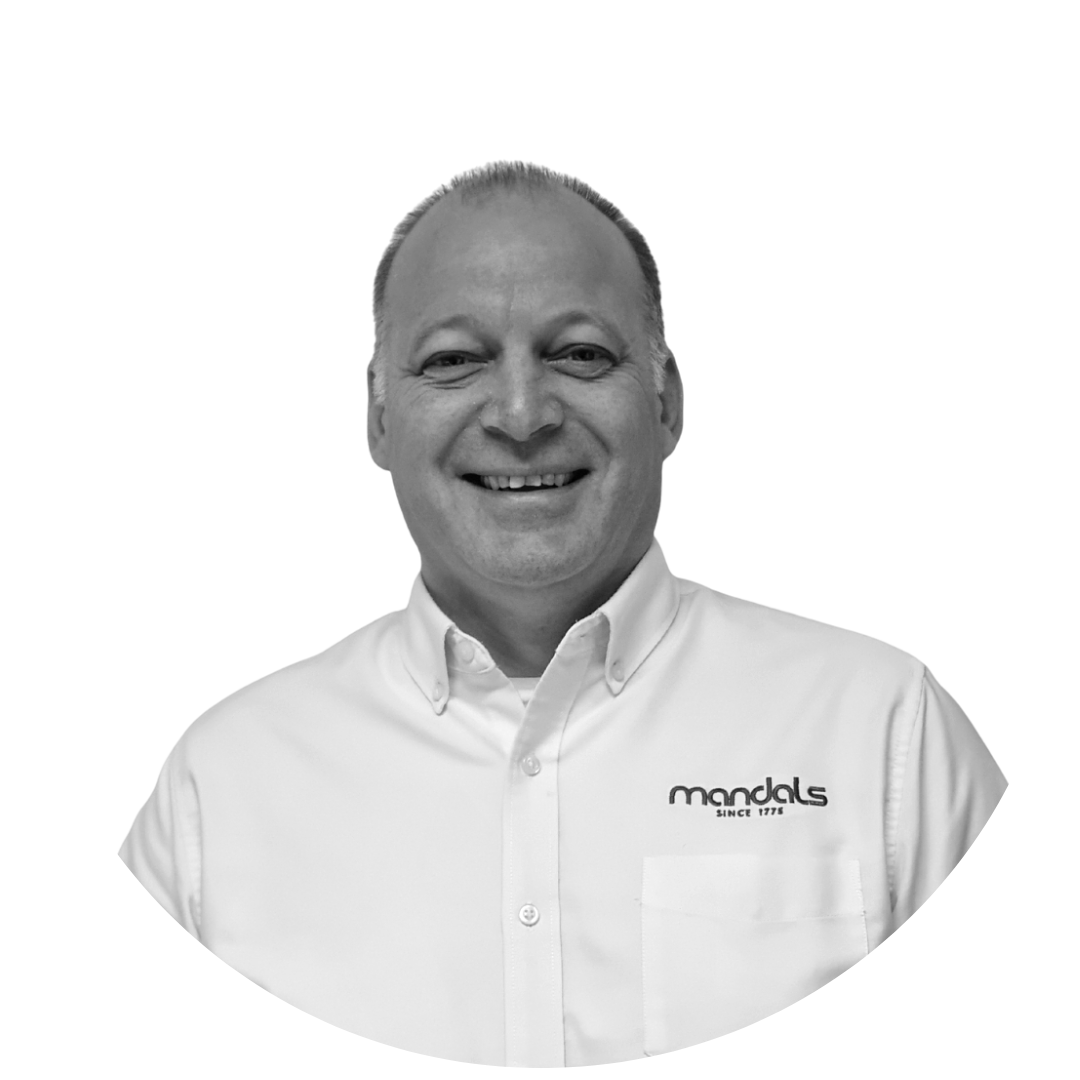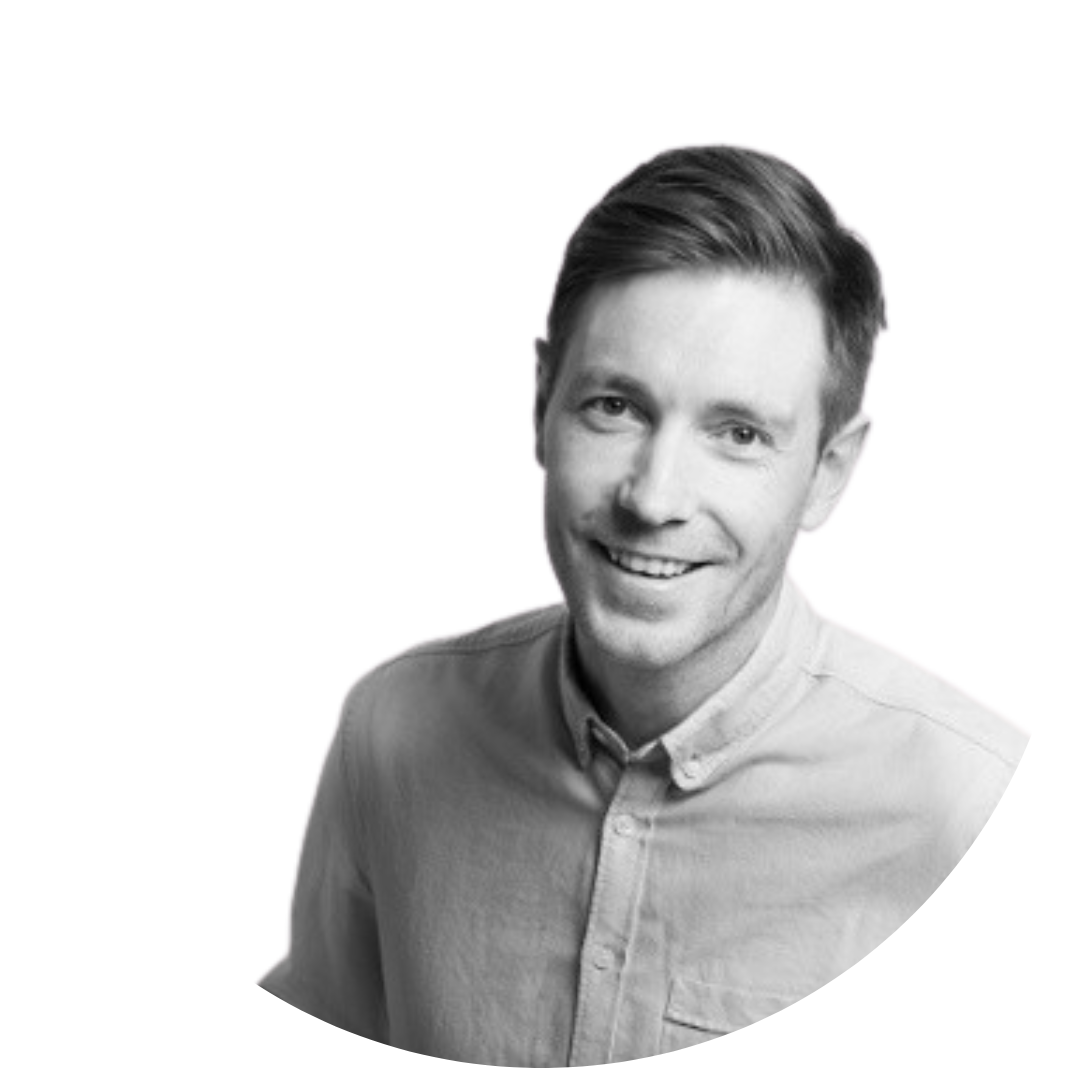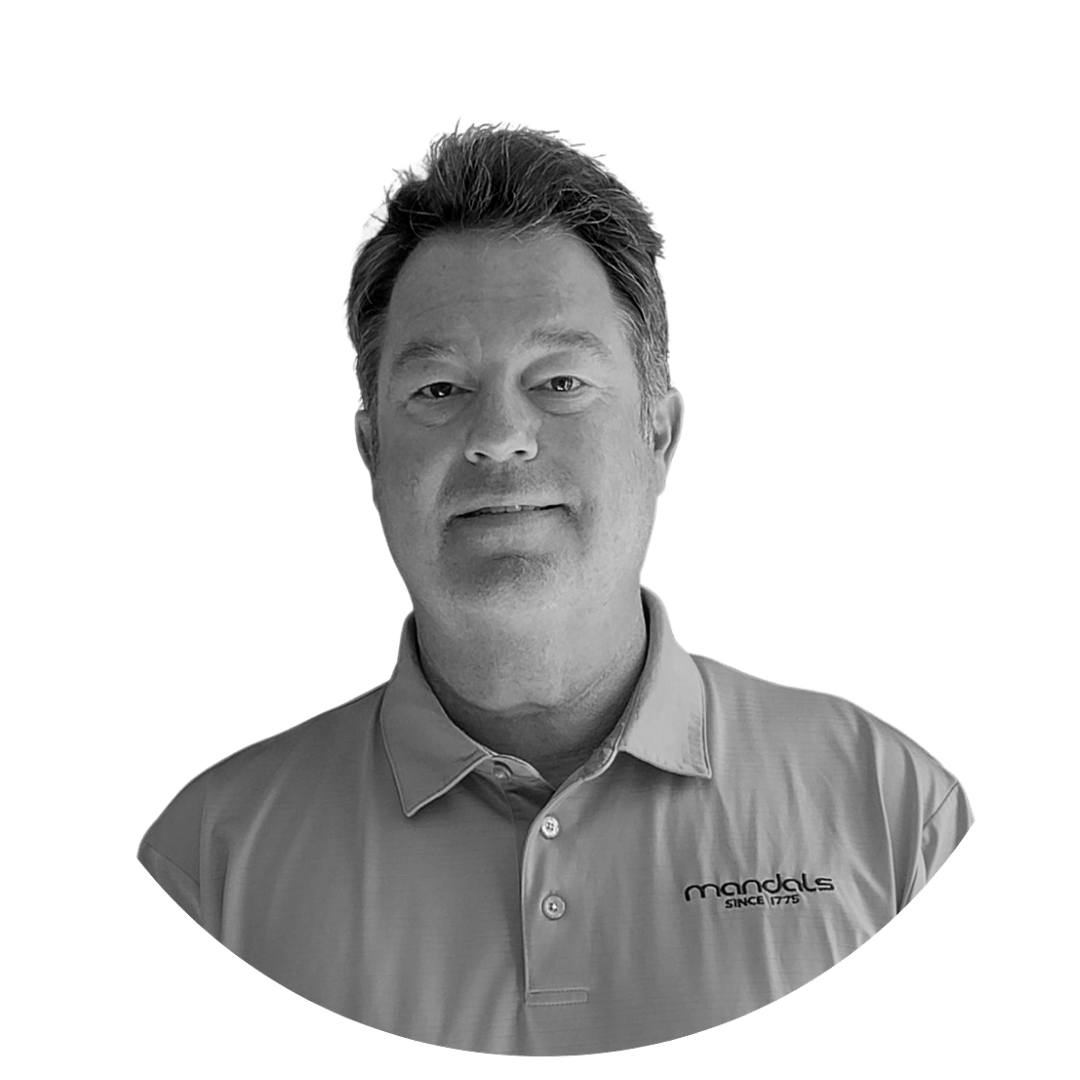 Nordre Banegate 26, 
4515 Mandal, 
Norway